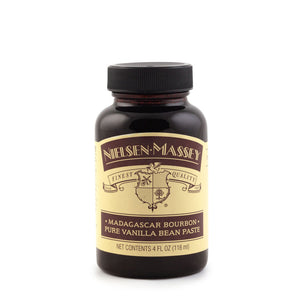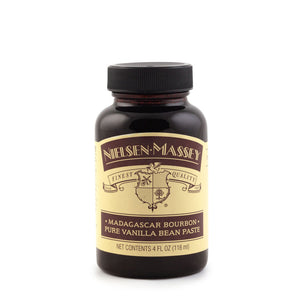 On Sale
Nielsen Massey Madagascar Bourbon Vanilla Bean Paste
Pure Vanilla Bean Paste is crafted from our Pure Vanilla Extract, made with a proprietary blend of select vanilla beans. The flavor profile is a classic, rich vanilla taste, with the addition of real bean specks from the vanilla pod, providing enticing visual flair for recipes like crème brûlée and ice cream.
4 oz bottle. 
1 tablespoon vanilla bean paste = 1 tablespoon vanilla extract = 1 whole vanilla bean = 1 tablespoon vanilla powder
Sweet ideas: crème anglaise, crème brûlée, custards, puddings, gelato, ice cream
Savory ideas: glazes for poultry, seafood and pork
Beverage ideas: milkshakes, coffee flavoring
Other ideas: oatmeal, yogurt
Chef's notes: Pure Vanilla Bean Paste can be used as a direct replacement for extract when you want the distinctive look of vanilla bean specks. Toss it with strawberries and serve with whipped cream for a delicious, fruity dessert.