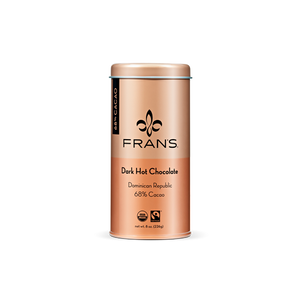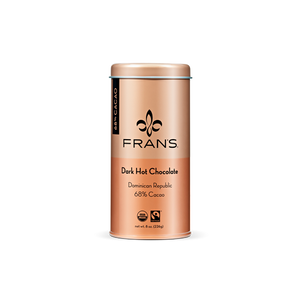 On Sale
Fran's Chocolate Dark Hot Chocolate
Indulge in the decadent taste of our 68% single-origin Dominican drinking chocolate. Dark Hot Chocolate is certified Fairtrade and Organic. This is a vegan product.

Ingredients: Dark chocolate* (cocoa beans, cane sugar, cocoa butter). Cocoa, cane sugar: Traded in compliance with Fairtrade Standards, total 100%. May contain milk, peanuts, tree nuts, eggs, soy, and wheat.
Our Dark Hot Chocolate is made with a full-flavored Dominican chocolate.

To best enjoy the complexity and flavor of this single origin chocolate, please enjoy within 6 months.

Store your hot chocolate out of direct sunlight, in a cool, dry place below 68°F (20°C).