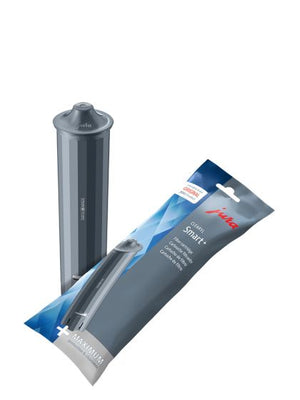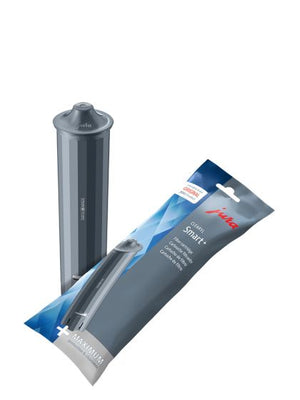 On Sale
Jura Clearyl Smart Filter Cartridge
Coffee is 98% water. So water of the highest quality is essential to creating the best possible coffee experience. The CLEARYL Smart+ from JURA further revolutionizes water filtration. The water filter technology ensures greater hygiene in the coffee machine, starting in the water tank itself. By choosing CLEARYL Smart+ you enhance the protection, product safety and service life of your coffee machine, so you can enjoy the perfect cup of coffee – every time.
At the lower end of the CLEARYL filter cartridge, there is a capsule of natural active ingredients that stabilizes the water in the tank, reducing limescale deposits at the base of the tank. It functions entirely through the natural movement of water in the tank, which continuously flows gently through the capsule without the need for additional energy or a special mechanism. As before, the upper part of the CLEARYL filter cartridge uses ion exchange and active carbon with the up-flow principle to filter exactly the right amount of water for the perfect cup of coffee.
Even better hygiene and cleanliness
CLEARYL Smart+ enhances the tried-and-tested professional up-flow principle, which filters exactly the amount of water required every time you make a coffee, with the addition of a capsule containing natural active ingredients. And the 'plus'? The natural movement of the water causes it to continuously flow gently through the capsule, stabilizing it through contact. The result is less limescale and maximum cleanliness in the water tank.
For use with models:
GIGA 10 (15527); GIGA 6 (15274,15396); Z10 (15361,15464,15636) Z8 (15192); Z6 (15093,15182); J6 (15150);
S8 (15210,15212,15358); E8 (15270,15271,15371,15422,15400); E6 (15070,15450,15465,15559,15622,15621);
D6 (15215,15216); WE8 (15145-with extension rod);
ENA 8 (15281,15284,15282,15283,15451); E4 (15466,15560); ENA 4 (15374/15351)